Vejle, Denmark. 11.5.2016.
Review 1:

Bryan Ferry: 70 years and still sharp as a razor
The legendary dandy and crooner is still the epitome of cool.
Yesterday we went to the (excellent) memorial concert in Amager Bio for David Bowie, famously left this state on January 10 at the age of 69, but a year older Bryan Ferry, as frontman for Roxy Music ran partnership with Bowie in the so-called glam- and Art-Rock in the early 1970s when they were both with to give pop music a fierce shot avant-garde without sacrificing the melodic, is fortunately still with us.
On top of that to the degree. He is a frequent guest at these latitudes, but you must remember that the shelf his old heroes, while they can still feel it, then signed was obviously in place in the inviting Vejle Music Theatre to hear the English dandy for the umpteenth time since I first saw Roxy Music once in Tivoli in the late 1970s on 'Manifesto' tour.
See also: Bryan Ferry's son fights for life
And let it be said at once: I've never seen a bad gig with Ferry. Neither this evening. It is of course a number of years ago that Ferry finally set the agenda, and since he and Roxy on 'Avalon' in 1982 created the blueprint for the elegant, fløjslbløde, delicious and fashionable liivstrætte and grandiose pop, which has since been on luxury wallpaper is there has not been that great, but there has almost always been something there, although the releases as a whole has fluctuated considerably. And the craftsmanship and the voice has certainly always been more than okay.
Ferry by apparently well saying that the future is behind him, so apart from the title track from the latest album from 2014 'Avonmore', was set list mainly of older classics of as well as a handful of cover versions, which he has managed to make its own . For Ferry professed already with his solo album 'These Foolish Tings' in 1973 to interpretatione noble art, which certainly was not comme il faut days when 'real' artists believed themselves to write their songs - but just try telling that to Elvis and Sinatra - or Ferry.
Ferry's vocal cords are inherently of a slight patina, but basically they stay just as good as the rest of the man's physiognomy, and he still sings like a crisp silk shirt with that individual, discrete red wine stain (or is it blood?) That just does not can be washed away Form curve during the session was that the man's last visit steadily increasing.
He must obviously just up and running, so the first half of the set was - apart from an early peak with 'Ladytron' from Roxy's debut album - more than ok without being memorable. but about two-thirds into the course took hell (or whoever he now professes to) him, and starting with a sublime version of 'If There Is Something' - also from the debut - it went from revelation to revelation with full terrific versions of among other 'Love Is the Drug,' 'Virginia Plain', 'Both Ends Burning', 'Let's Stick Together', 'Jealous Guy' (as Ferry well do better than Lennon himself) and the finale with 'Editions of You', A string that few can sting.
Not when they are played by such a terrific eight-man orchestra (plus two soulful singers), which is certainly not understated the initially skewed Roxy sound with psychedelic synths, wild violin and abrupt tempo changes. And so could the Danish guitarist Jacob Quistgaard and the über cool saxophonist etc. (Which might easily be the femme fatale in a black / white film noir classic), respectively their Phil Manzaneraog Andy Mackay to the fingertips without renouncing their own sound.
So yes, Ferry probably live high on former farms but there is absolutely nothing stale or advanced in years the play and performance. On the contrary. We bow humbly in the dust and show our deepest respect. Imagine if you can be as cool and crisp, at age 70 years. Life-affirming beyond measure.
Bryan Ferry plays in the DR Concert Hall, Copenhagen. 13 May. Konceten is sold out.
Attachments: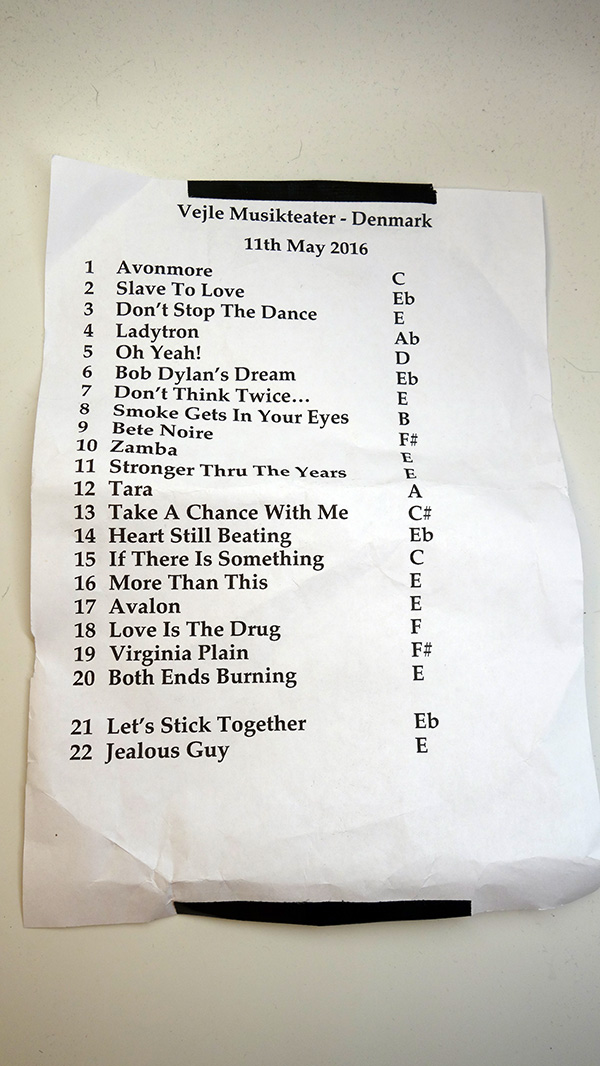 setlistvejle.jpg [ 184.35 KiB | Viewed 11256 times ]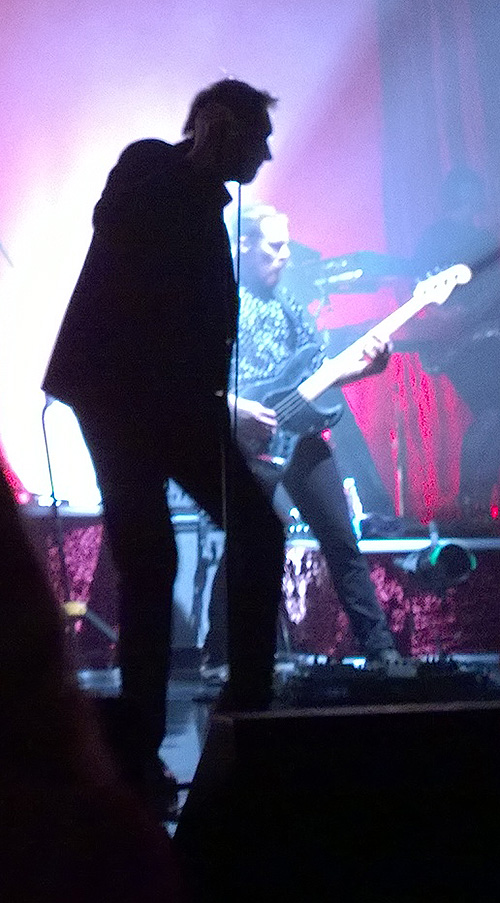 13tuyruryuryuryury.jpg [ 170.96 KiB | Viewed 11256 times ]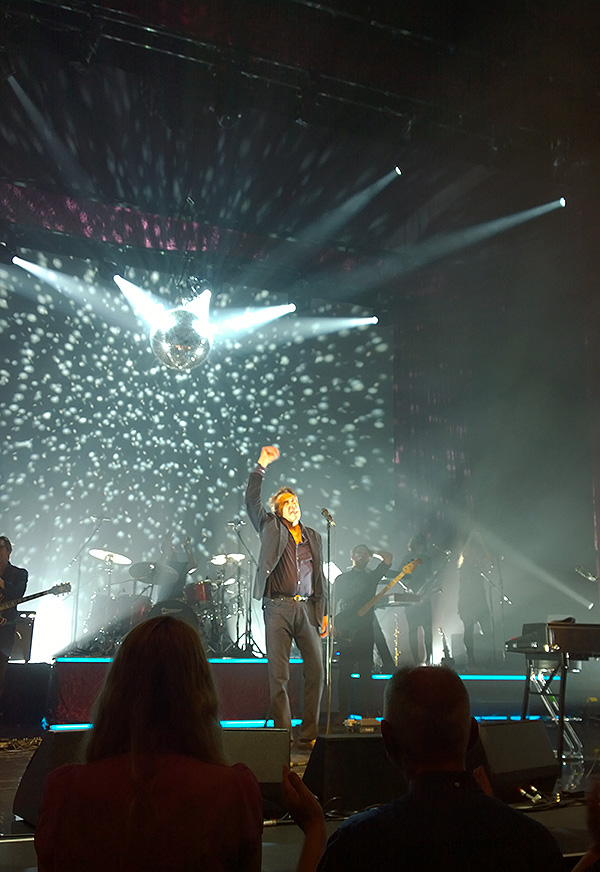 11gsdghsghfshfhsghfhsh.jpg [ 167.37 KiB | Viewed 11256 times ]