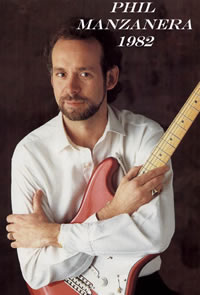 Phil Manzanera's Solo Work
Phil Manzanera (Philip Targett Adams) was born in London 31st January 1951 to a Colombian mother and English father, and spent most of his childhood in different parts of the Americas: Hawaii, Venezuela, Colombia and Cuba. Phil encountered his first guitar at the age of 6 in Cuba, a Spanish guitar owned by his mother. His early musical accomplishments are said to be Cuban folksongs learnt against the upheaval of the Cuban Revolution. The scenes in he must have witnessed in Cuba at that time made deep impressions which have surfaced in much of his music. At the age of eight Phil was in Venuezuela and it was here that he began experimenting with the sounds of a Fram lorelei cello electric. A return to London, and school at Dulwich College, brought new heroes, in particular The Beatles and Soft Machine. Phil had taught himself guitar from the age of twelve, and now spent the florescent year of 1967 playing with an acid-rock group. Two years later aged 18, Phil rejected a university place in favour of music, and formed Quiet Sun, a moderately successful band fond of rhythmic experimentation. Quiet Sun burnt itself out eventually and Phil avoided regular guitar work until being invited to join Roxy Music in February 1972 after being the band's sound engineer prior to the departure of original guitarist Davy O'List.
He reformed Quiet Sun and recorded the album 'Mainstream' during the simultaneous sessions for his debut album 'Diamond Head' in 1975 and releasing 'Frontera' as a single in Germany to promote the album. During 1976 he formed the band 801 with Brian Eno and did a mini tour where they recorded the critically acclaimed live album '801 Live'.
The following he spent the next 18 months working with 801 and many session musicians to record Listen Now and its single 'Flight 19'. Phil did some live dates in UK to promote the album with guest appearances with his Roxy sidekicks Paul Thompson and Andy Mackay. In 1978 he released the single 'Remote Comtrol' from the album 'K-Scope' before reforming Roxy Music with Paul, Bryan and Andy.
In 1980 he built his own studio Gallery Studio at his home in Chertsey. The studio recorded many artists as well as parts of Roxy Music's 'Flesh + Blood' and 'Avalon' studio. The luxury of having his own studio meant that Phil had a new approach on his first studio album recorded at Gallery. The album became a 'solo' album in the true sense of the word in that Phil played all the instruments with the exception of bass on one track. The album had 2 singles with 'Impossible Guitar' (performed by Roxy Music during the Avalon tour) and 'Criollo'.
After the demise of Roxy Music in 1983 Phil teamed up with Andy Mackay and singer James Wraith to form the band The Explorers. Over the next 2 years the band would work together writing and recording their eponymous debut album and the singles, 'Falling For Nightlife', Lorelei', Venus De Milo' and 'Up In Smoke' released between 1984 and 1985. The trio with session musician recorded a second album but where dropped by their record company before it was released. This material would eventually be released under the band name of Manzanera Mackay as 'Crack The Whip' and 'Up In Smoke in 1988 and a compilation called 'Wetton Manzanera' in 1990. The entire Explorers catalogue was released on the double CD The Complete Explorers in 2001. During the Explorers period Phil's record company for his first 5 solo albums released a compilation album called 'Guitarissimo' in 1986.
Phil would record an album with one time Roxy Music bass player John Wetton with the eponymous titled album Wetton Manzanera released in 1987. The album would be re-released in 1998 under the name 'One World'. Phil continued in collaboration mode when he teamed up with Andy Grossart and Paul Williams under the name of Nowomowa to record the instrumental album 'The Wasted lands' in 1988
In 1990 Phil took the next step in his musical journey by forming his own record company Expression records. His first release on Expression was his new solo album 'Southern Cross' with the singles 'A Million Reason Why', 'Guantanamera' and 'Tambor'. The same year saw another collaboration with Sergio Dias and the fruits of that was an instrumental album called 'Mato Grosso'
In 1992 Phil joined Grupo Moncada on stage in Havana. The show was recorded and released in 1992 as the album 'Live At The Karl Marx'. The rest of the 1990's would see Phil as producer or session musician on many albums.
Phil's first new solo recordings in 9 years would see Phil taking in the vocal duties on 'Vozero' similar theme for '6PM' (2004) and '50 Minutes Later' a year later.
Phil's most recent album Firebird V11 released in 2008 was an instrumental album featuring his signature guitar the Gibson Firebird V11. He did 3 shows at Ronnie Scott's in London to promote the album with Pink Floyd's Dave Gilmour and Andy Mackay making guest appearances.
Sandwiched in between all these albums are many sessions and production credits as well of course the Roxy Music albums and tour.
Phil has proved to be the most productive member of Roxy over the years with no signs of slowing down.
Phil Manzanera Session & Production Credits:

These Foolish Things - 1973 Island (with Bryan Ferry)
In Search For Eddie Riff - 1974 Polydor (with Andy Mackay)
Here Come The Warm Jets - 1974 Island (with Brian Eno)
Fear - 1974 Island (with John Cale)
Taking Tiger Mountain By Strategy - 1974 Island (with Brian Eno)
The End... - 1974 Island (with Nico)
Slow Dazzle - 1975 Island (with John Cale)
Let's Stick Together - 1976 Island (with Bryan Ferry)
Mental Notes - 1976 Chrysalis (with Split Enz)
Before And After Science - 1977 Polydor (with Brian Eno)
Listen Now - 1977 Polydor (with 801)
In Your Mind - 1977 Polydor (with Bryan Ferry)
Resolving Contradictions - 1978 Bronze (with Andy Mackay)
Freeze Frame - 1979 Polydor (with Godley And Creme)
Caught In The Crossfire - 1980 Polydor (with John Wetton)
Park Hotel - 1986 EMI (with Alice - European release)
Christmas: The Players - 1989 Ryko (with Andy Mackay - U.S. release)
Abracadabra - 1991 MCA (with ABC)
Boleros Hoy - 1991 CBS (with Tania Libertad)
Live At The Borderline - 1993 Capitol (with Tim Finn)
Live At The Karl Marx - 1993 Expression (with Moncada - European release)
Jewel - 1994 Polygram (with Marcella Detroit)
Oceano De Sol - 1994 Polygram (with Antonio Vega)
Mamouna - 1994 Virgin (with Bryan Ferry)
Revolution Ballroom - 1995 Activ (with Nina Hagen)
Circo Beat - 1995 WEA (with Fito Paez)
Wizards Convention 2 - 1995 Edel (with Eddie Hardin)
Looks Like Ringo Sounds Like John - 1995 RDR (with The Wiseguys INTL.)
To Cry You A Song: A Collection Of Tull Tales - 1996 Magna Carta
Vagabundo - 1996 Sony (with Robi Draco Rosa)
Shleep - 1997 Thirsty Ear (with Robert Wyatt)
Pilgrimage: 9 Songs Of Ecstasy - 1997 Polygram
Radical Sonora - 1997 EMI (with Enrique Bunbury - European release)
Pipa de La Paz - 1997 RCA (with Los Aterciopelados)
Rarezas - 1998 EMI (with Heroes Del Silencio)
As Time Goes By - 1999 Virgin (with Bryan Ferry)
Soupsongs - 2000 Voiceprint (with Annie Whitehead)
Minage - 2000 Sony (with Monica Naranjo)
Ping Pong Bitches (EP) - 2001 Poptone (with The Ping Pong Bitches)
El Jinete - 2001 EMI (with Enrique Bunbury)
Libertad Del Alma - 2001 Sony (with Robi Draco Rosa)
Elefantes - 2003 EMI (with Elefantes)
Album Discography for Phil Manzanera and Primary Collaborations
Singles Discography for Phil Manzanera and Primary Collaborations