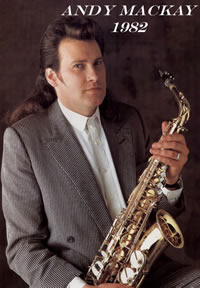 Andy Mackay's Solo Work
ANDY MACKAY BIOGRAPHY

Andy Mackay-saxophonist, oboe player, widely-respected film and television composer, and founder member of Roxy Music-was born in Lostwithiel, Cornwall but grew up in Pimlico in central London. He discovered both classical music (thanks to his father, a talented amateur pianist) and rock 'n' roll (thanks to the BBC Light Programme and Radio Luxembourg).

He first played oboe at his grammar school, Westminster City, winning a weekly scholarship to the Guildhall School of Music and then playing in the London Schools Symphony Orchestra.

Mackay went on to read Music and English Literature at Reading University, where a simple swap became a defining moment. He traded one of his boyhood treasures, a telescope, for his first alto sax, experimenting on it with a university group, the Nova Express. Andy became deeply involved with avant-garde and electronic music, particularly the work of John Cage, Morton Feldman and Karl Heinz Stockhausen. It was at this time that he met Brian Eno, an art student at nearby Winchester College of Art, in avant-garde performance events. Scraping a B.A.Hons, Andy left university determined to earn his living from music, but he was unsure how to make that happen. An advertisement in the Melody Maker as a rock 'n' roll oboist proved unproductive, and he took a break from the London music scene of the late '60s to live in Rome for a year. Returning to England with determination undiluted, Andy was teaching music at Holland Park Comprehensive when he became a co-founder of Roxy Music with Bryan Ferry, to whom he had been introduced by a university friend.
Mackay was intrigued by Ferry's eclectic record collection, which extended from the Inkspots to King Crimson, and with Newcastle friends Graham Simpson on bass and occasionally John Porter on guitar, they began rehearsing and developing a small batch of songs which Bryan was writing.

Meeting Brian Eno again on a tube train in London, Andy introduced him to the embryonic Roxy Music, and Eno took over the VCS3 synthesiser, which Andy had recently bought. Roxy, as they were first known, started gigging in late-1971. Andy kept his day job, but not for much longer. By early 1972, they had appeared on John Peel's highly influential "sounds of the '70s" show on Radio 1. Now renamed Roxy Music, they attracted the attention of E'G Management, who had managed King Crimson, and Emerson Lake and Palmer. Roxy Music added young Geordie drummer Paul Thompson whose dynamic and muscular playing was such a distinctive feature of the next six albums, and Phil Manzanera, who replaced Davy O'List, the former guitarist with the Nice. E'G secured a deal with the definitive independent record label, Island, and Roxy Music recorded their self-titled first album, produced by King Crimson lyricist Pete Sinfield. Melody Maker called it "the best first album ever" amid a welter of acclaim from media and public alike and Mackay played his full part in the band's role on the cutting edge of style, wearing stage clothes designed for him by Royal College of Art graduates Jim O'Connor and Tamla Motown as well as St. Martin's graduate Carol McNichol. Andy was the first to have his quiff bleached and the tips dyed blue by fashionable hairdresser Keith at Smile, stopping the Knightsbridge traffic as he left the salon.

Over the ensuing albums, Mackay was to become one of the architects of Roxy's daring sonic and stylistic combination of retro and futurism, but before long was also experimenting outside the group discipline. He worked on Eno's first album 'Here Come The Warm Jets' in 1973 and the following year, recorded his own solo instrumental album 'In Search Of Eddie Riff', a kind of musical autobiography and an exploration of his own roots from Schubert to '50's rock 'n' roll.

In the spring of 1975, an inspired guest of a mutual friend put Andy in touch with New York playwright Howard Schuman, who had been commissioned by Thames Television to write an ambitious six-part drama with music about three girls in a rock group. He and Howard struck an instant rapport and the result was the memorable 'Rock Follies', effectively a full-scale television musical starring Julie Covington, Rula Lenska and Charlotte Cornwell. Featuring a real, on-screen band directed by Mackay, 'Rock Follies' ran to two series, won the BAFTA award for Best Television Drama of 1976 and produced a sound track album on Island that raced to No.1 in the UK.

Roxy's hiatus after the 'Siren' tour enabled Andy to concentrate on 'Follies' and ensuing TV projects such as' Armchair Thriller' and 'Hazell', collaborating on the latter with seasoned blues singer Maggie Bell. He also played sax on the first pop promo made by Godley and Creme, 'Wide Boy'. In 1978, a trip with his wife Jane to China inspired a second instrumental solo album, 'Resolving Contradictions', which featured Roxy's Paul Thompson and Phil Manzanera as guests.

Roxy then reconvened for the 'Manifesto' and 'Flesh and Blood' albums, and the tragic death of John Lennon in 1980 led to perhaps Andy's most recognised saxophone solo on record, on the group's respectful and heartfelt cover of John's 'Jealous Guy', an international No.1.

Amid Roxy's busy tour schedule, Andy found time to research and write a book which had been commissioned by Phaidon Press entitled 'Electronic Music', published in 1981. On the conclusion of Roxy's active service in 1983, Mackay and his family moved to Kenmare in the west of Ireland, where he developed an interest in traditional Irish music, but fresh air, fishing and Kerry polkas were not quite enough to keep Andy off stage and out of the studio for long and he began a new project with Phil Manzanera that became the Explorers. Managed by Pink Floyd guru Steve O'Rourke, the group were signed by Virgin Records and produced a self-titled album released in 1985, with a second set from a projected follow-up released on Phil's Expression label in 1988 as 'Manzanera and Mackay'. Andy, in demand as ever, played on records for the Pet Shop Boys, Japanese musicians Masami Tsuchiya and Yukihiro Takahashi (and later Japanese superstar Hotei), Italian singer Enrico Ruggieri and Duran Duran spin-off Arcadia. But soon, after writing and directing the music for Schuman's 'Video Stars' play for the BBC, Mackay virtually gave up rock 'n' roll to become a full-time theology student at King's College London on the three-year bachelor of divinity course (moonlighting on two London dates of Bryan's 1988-89 tour). Graduating in 1991, he resumed composing full time with an extensive interest in a broad range of spiritual and poetic themes. Early in 1992, following the sudden death of his wife, Andy suspended most musical activity to bring up his children, but resumed composing in a computer / digital suite at home in early 1993 and completing the music for two series of Carlton's 'Class Act'. His major musical preoccupation during this period had been a setting of 'Four Psalms' for a mixture of sampled sounds and electronic, midi and audio instruments. These remain unreleased. In 1998 Andy was involved in a fascinating deja vu re-creating early Roxy tracks with contemporary musicians such as Thom Yorke of Radiohead for the soundtrack to the movie 'Velvet Goldmine'

2004 saw the release of SAMAS Music for the senses an album of relaxation music comissioned by the Kenmare Hotel in Ireland. His latest project has been with his band Andy Mackay And The Metaphors. The band (including Roxy's Paul Thompson did some live shows in March and October 2008 and released the album London! New York! Rome! Paris! in 2009.
Andy Mackay Solo Discography
Albums:
1974 In Search Of Eddie Riff
1978 Resolving Contradictions
2004 SAMAS Music For The Senses
2009 London! Paris! New York! Rome
1976 Rock Follies (Soundtrack)
1977 Rock Follies Of '77 (Soundtrack)
1985 The Expolrers (With Phil Manzanera & James Wraith)
1988 Crack the Whip (With Phil Manzanera & James Wraith)
1988 Up In Smoke (With Phil Manzanera & James Wraith)
1990 Manzanera MacKay (With Andy MacKay & James Wraith)
1990 Christmas (With The Players)
2001 The Complete Explorers (With Phil Manzanera & James Wraith)
Singles:
1974 Ride Of The Valkyries
1975 Wild Weekend
1976 Talking Pictures (Rock Follies)
1976 Glenn Miller Is Missing (Rock Follies)
1977 OK? (Rock Follies)
1978 Skill And Sweat
1984 Lorelei (The Explorers)
1985 Venus Di Milo (The Explorers)
1985 Two Worlds Apart (The Explorers)
1985 Falling For Nightlife (The Explorers)
Andy MacKay Sessionography
Mott - 1973 CBS (with Mott The Hoople)
Here Come The Warm Jets - 1974 Island (with Brian Eno)
Taking Tiger Mountain By Strategy - 1974 Island (with Brian Eno)
Slow Dazzle - 1975 Island (with John Cale)
At The Sound Of The Bell - 1975 CBS (with Pavlov's Dog)
Diamond Head - 1975 Island (with Phil Manzanera)
Ensemble Pieces - 1976 Obscure (with Christopher Hobbs)
Ready Or Not - 1977 DJM (with Ray Russell)
A Biography - 1978 Riva (with John Cougar)
L - 1978 Mercury (with Godley And Creme)
Long Distance Romancer - 1979 Chrysalis (with Mickey Jupp)
Tug Of War - 1982 Parlophone (with Paul McCartney)
Pipes Of Peace - 1983 Parlophone (with Paul McCartney)
So Red The Rose - 1985 Parlophone (with Arcadia)
Please - 1986 EMI (with Pet Shop Boys)
Islands - 1987 Virgin (with Mike Oldfield)
Taxi - 1993 Virgin (with Bryan Ferry)
Mamouna - 1994 Virgin (with Bryan Ferry)
Revolution Ballroom - 1995 Active (with Nina Hagen)
Vozero - 2001 Expression (with Phil Manzanera)
6PM - 2004 Expression (with Phil Manzanera
50 Minutes Later (with Phil Manzanera)
Album Discography for Andy McKay and Primary Collaborations
Singles Discography for Andy McKay and Primary Collaborations