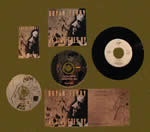 Lyrics to As Time Goes By
Lyrics to the song As Time Goes By as recorded by Bryan Ferry.
Words & Music by Hupfield
You must remember this
A kiss is still a kiss
A sigh is just a sigh
The fundamental things apply
as time goes by
And when two lovers woo
They still say "I love you"
On that you can rely
No matter what the future brings
as time goes by
Moonlight and love songs never out of date
Hearts full of passion, jealousy, and hate
Woman needs man, and man must have his mate
That no one can deny
It's still the same old story
A fight for love and glory
A case of do or die
The world will always welcome lovers
as time goes by
As Time Goes By
Single
Words & Music by Herman/Hupfield
This song was released as a CD single by Bryan Ferry on 1st November 1999 accompanied with Falling In Love Again and a song left over from the As Time Goes By sessions, If I Didn't Care.
Bryan performed this track on several TV shows including Later With Jools Holland & The National Lottery show to promote the As Time Goes By album.
The song was included in the live set for the first half of the As Time Goes By tour 1999/2000.
Type:

Song Musicians
As Time Goes By is on the following Roxy Music and Solo Albums