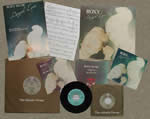 Lyrics to Angel Eyes
Lyrics to the song Angel Eyes as recorded by Roxy Music.
(Ferry/MacKay)
Oh angel eyes
Am I deceived
Or did you sigh?
For all I know
You let your love light
Shine on me
Oh angel eyes
You never close
Who's got the time?
I can't wait
Until your love light
Shine on me
(Oh angel eyes)
(It seems to me)
(You fill the skies)
(And far below)
(So let your love light)
(Shine on me) (Rock Version Only)
Oh angel eyes
On the wing and open wide
No matter now
How high the moon shine
Down on me
Angel, angel eyes
Angel, angel eyes
Angel, angel eyes (angel)
Angel, angel eyes (angel)
Angel, (angel)
Angel Eyes
Single
This was the third single from Roxy Music's Manifesto album. The song was originaly recorded with a more rock feel. The re-recording had a disco feel which was used as the single mix. This single mix also seen the first extended mix of a Roxy Music track that was found on the 12" single. The extended version was also found on the Let's Stick Together (Westside '88 remix) 12" single. This long version first appeared on CD on the box set The Thrill of It All in 1995.
The single peaked at number 4 in the UK charts in August 1979 and was coupled with a My Little Girl taken from the Manifesto album.

There are 3 versions.

Picture Disc Album Version 3:32
Single version and album version 3:00
Extended Version 6:39

What Bryan says:

"After a short early career as an album track on our 1978 album Manifesto, Angel Eyes was reborn as a brilliant dance re-mix, anticipating a whole new world of music. It became a big hit as a single and in clubs. It was also the first record we made a specific promo video for."


Song Musicians
Angel Eyes is on the following Roxy Music and Solo Albums
Chart Info
CHART HISTORY
07 Aug 1979 32
14 Aug 13
21 Aug 12
28 Aug 4
04 Sep 4
11 Sep 6
18 Sep 10
25 Sep 20
02 Oct 36
09 Oct 50
16 Oct 75
(Chart run of 11 weeks)
Thanks to Johnny Reece for the research.
Discography:
| Format | Country | A-Side | B-Side | Details | Label | Cat. No |
| --- | --- | --- | --- | --- | --- | --- |
| | | | | | | |
| 7" | UK | Angel Eyes | My Little Girl | Picture Sleeve | Polydor/E'G | POSP 67 |
| 12" | UK | Angel Eyes | My Little Girl | Picture Sleeve | Polydor/E'G | POSPX 67 |
| 7" | Japan | Angel Eyes | My Little Girl | Picture Insert + Lyrics | Polydor/E'G | DPQ6167 |
| 7" | USA | Angel Eyes | Angel Eyes | Mono/Stereo Promo | ATCO | ST-79C-37325 |
| 7" | USA | Angel Eyes | My Little Girl | Picture Sleeve | ATCO | 7204 |
| 12" | USA | Angel Eyes | My Little Girl | Promo | ATCO | DSKO 198 |
| 7" | Holland | Angel Eyes | Angel Eyes | Picture Sleeve | Polydor/E'G | 2001 900 |
| 7" | Germany | Angel Eyes | My Little Girl | Picture Sleeve | Polydor/E'G | 2001 900 |
| 7" | Belgium | Angel Eyes | My Little Girl | Picture Sleeve | Polydor/E'G | 2001 900 |
| 7" | Italy | Angel Eyes | My Little Girl | Picture Sleeve | Polydor/E'G | 2001 900 |
| 7" | France | Angel Eyes | My Little Girl | Picture Sleeve | Polydor/E'G | 2001 900 |
| | | | | | | |
| | | | | | | |