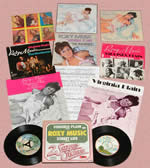 Lyrics to Virginia Plain
Lyrics to the song Virginia Plain as recorded by Roxy Music.
(Ferry)
Make me a deal and make it straight
All signed and sealed, I'll take it
To Robert E. Lee I'll show it
I hope and pray he don't blow it 'cause
We've been around a long time
Just try try try try tryin' to make make the big time
Take me on a roller coaster
Take me for an airplane ride
Take me for a six day wonder
But don't you throw don't you throw my pride aside besides
What's real and make believe?
Baby Jane's in Acapulco
We're all flying down to Rio
Throw me a line I'm sinking fast
Clutching at straws can't make it
Havana sound we're trying
Hard edge the hipster jiving
Last picture shows down the drive in
You're so sheer you're so chic
Teenage rebel of the week
Flavours of the mountain streamline
Midnight blue casino floors
Dance the cha cha through till sunrise
Opens up exclusive doors oh wow!
Just like flamingoes look the same
So me and you, just we two
Got to reach for something new
Far beyond the pale horizon
Some place near the desert strand
And where my Studebaker takes me
That's where I'll make my stand but wait
Can't you see that Holzer mane?
What's her name, Virginia Plain?
Virginia Plain
Single
Virginia Plain was recorded for a single release just after the release and success of the debut album. Released 4th August 1972 one week later than originally intended c/w The Numberer and reached number 4 in the UK singles charts by 12th September 1972. The singles' success was helped by their first appearance on Top Of The Pops on 24th August 1972 exposing the band to a whole new audience and establishing many life long fans. The debut album released 6 weeks earlier took 3 weeks to get into the album charts starting at number 22 but then dropping the following two weeks heading out of the chart. The release of Virginia Plain and more significantly the Top Of The Pops appearance turned the album back round going into the top 20 just over a week after this TV appearance and eventually peaking at number 10 and having a 16 week span in the UK album charts.

Recording Session.
The band where booked into Command Studios 2PM-10PM to record both 'Virginia Plain' and the b-side 'The Numberer' (original title First Kiss) 10th-12th July 1972 . The tracks where mixed mixed on 17th & 18th July 1972.

What Bryan says.......

"We had just released the first Roxy Music album and our record company, Island, seemed as surprised as we were by its instant success. Their only problem there was no obvious single so they asked me if I had any other songs knocking about. I did have an unfinished song called Virginia Plain, which we quickly recorded. I vividly remember our roadie driving up and down outside the studio as we tried to record the sound of his motorbike.

The song itself is about a painting I did a few years before when I was an art student at Newcastle University. I was interested in stream of conscious writing, and since the songs on the first album hadn't been very wordy, I felt it was time for a bit of verbal dexterity.

I suppose nowadays any song with this title would be banned."

Their single, "Virginia Plain" exemplifies his approach to writing, which freely criss-crosses between the visual and aural arts. It's based around a painting of the same name which he did years ago, and which is itself a three-way pun. The name, of course, comes from a brand of American cigarettes - and the painting consists of a large cigarette pack, with the motif of a girl, placed at the end of a plain; so the cigarettes are Virginia Plain, the girl is Virginia Plain, and the plain is Virginia Plain. How it translates into the song is rather more complex. "The painting was a sort of throwaway water colour," he says, "and the song has lots of little images and throwaway lines. The painting was done in '64, and although the song was written this year, it reflects the feeling of that time - I was up in Newcastle, living with a guy who'd helped Warhol to make the Marilyn (Monroe) silkscreens. It's a whole American Dream thing, living up there yet constantly thinking about Warhol's Factory and Baby Jane-Holzer. It's got some other things in it now Vegas, Nevada, Route 66..."


What Phil says.......

Q. How do you approach soloing, for instance?

"It really depends on what I get given to do. Frequently the group go into the studio to do a new number without telling me how it goes so that I'll play with the spontaneity they like. Like for Virginia Plain I got into the studio and set up my amp and the time was getting closer and closer to my solo and I still hadn't the faintest idea what I was going to do. And the break arrived and I just went blam! I mean, I could've put my fingers anywhere. I've since tried to reproduce that solo and I can't work out at all."

"That was an amazing session. We were all capering around in there during The Numberer shouting silly things which eventually had to be edited out. In fact, ever since I've joined Roxy I've been having an amazing time. Like a beautiful dream."

The song didn't appear on any UK album until 1977 when it was re-released as a single in 1977 backed with the second Roxy single Pyjamarama to promote Roxy Music's Greatest Hits album. It was played on most Roxy tours up until and including the Manifesto tour in 1979. It remained un-played until Bryan Ferry's 1994 tour and was introduced to his 1999 tour towards the latter part of the tour. Roxy Music played it throughout the 2001 reunion tour on most of the shows and during the 2003,2005, 2006, 2010 and 2011 dates. Bryan Ferry has also continued to keep it in the live set during many of the shows on the Frantic and Dylanesque tours.

Virginia Pain has also been recorded by Spizz Energi and a 4 dance versions were done by Slamm. The Mission recorded this song under the name of The Metal Gurus



Song Musicians
Virginia Plain is on the following Roxy Music and Solo Albums
Chart Info

CHART HISTORY

15 August 1972     46
22 August 1972     26
29 August 1972     18
05 September 1972   8


12 September 1972   4


19 September 1972   7
26 September 1972  10
03 October 1972    15
10 October 1972    24
17 October 1972    28
24 October 1972    36
31 October 1972    50
(Chart run of 

12 weeks

)

Thanks to Johnny Reece for the research.


Discography:
| Format | Country | A-Side | B-Side | Details | Label | Cat. No |
| --- | --- | --- | --- | --- | --- | --- |
| | | | | | | |
| 7" | UK | Virginia Plain | The Numberer | | Island | WIP6144 |
| 7" | Germany | Virginia Plain | The Numberer | Picture Sleeve | Island | 12291 AT |
| 7" | Holland | Virginia Plain | The Numberer | Picture Sleeve | Island | 12291 AT |
| 7" | Japan | Virginia Plain | Pyjamarama | Picture Insert + Lyrics | Island | ILR 10769 |
| 7" | Spain | Virginia Plain | The Numberer | Picture Sleeve | Island | 12291 AT |
| 7" | USA | Virginia Plain | The Numberer | | Reprise | RPS 1124 |
| 7" | Italy | Virginia Plain | The Numberer | Picture Sleeve | Island | WIP21644 |
| 7" | USA | Virginia Plain | DoThe Strand | Back To Back Hits Re issue | Warner Bros. | GWB 0316 |
| 7" | France | Virginia Plain | The Numberer | Picture Sleeve | Island | 6138 021 |
| 7" | Denmark | Virginia Plain | The Numberer | Picture Sleeve | Island | WIP 6144 |
| 7" | Canada | Virginia Plain | The Numberer | Picture Sleeve | Island | RPS 1124 |
| 7" | USA | Virginia Plain | Virginia Plain | Mono/Stereo Promo | Reprise | REP1124 |
| 7" | Germany | Virginia Plain | Street Life | Titles Cover | Polydor | 2002 031 |